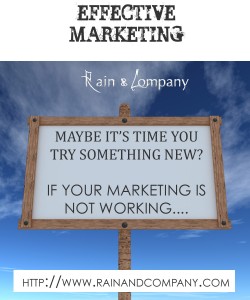 Why is it that so many companies keep going back to what they know! Perhaps it's because the unknown represents taking risks!  Let's face it, the unknown can be a scary place…what if we fail?  On the flip side of that, what if you win and win big?
Is your company at a stand sill? Are you doing the same things over and over again with your marketing? If it's not working for you, THEN IT'S NOT WORKING and you NEED to change something.
1. Take A Survey or Ask People You Trust!
Take a survey of your products/services and ask people what they think of: 1. the product 2. the marketing approach and ask them if they would buy your product/service. So many times, marketers are in front of the same product/services and they loose sight of the big picture. Listen to what the feedback is and try not to take offense.
2. Ask Questions to the right Audience!
So many people make it a habit to copy and paste the same thing to the different venues. For example, if you write a blog about your product/services, offer advice or ask questions. If you're on LinkedIn, post your blog on the various groups but ask relevant questions that the specific group will relate too! I strongly encourage you to use the groups in LinkedIn. You can target the right audience and offer helpful tips or suggestions OR receive good feedback.
3. Change Your Graphics
How often do you change your graphics on your website? If you write a blog, do you add new graphics that are relevant to the blog? Research show that you have about 2 seconds to grab someone's interest. Chances are, two seconds will be decided with a relevant graphic or a short-to the point header! Go ahead, change it up a bit and grab beautiful, relevant graphics and add headers to your graphics.
4. Think Outside the Box
This saying has probably been overused in the last 10 years, but no matter how much people use it verbally, they need to use it in action! If your marketing plan is not giving you the results you are looking for, you clearly need to change something. Have a good marketing plan in place with target dates and action items. The best people to give you good feedback are your customers- they really do know best! Try something that you've never tried before! Look at Best Practices by others. Although they might be from another industry, is there something you can learn from them?  Have fun with your marketing campaigns. It's OK to incorporate some humor, just beware of the cheesy stuff… again, ask people what they think!
Have fun marketing and if you need help with your marketing, give us a call or email us info@rainandcompany.com or visit our website: http://www.rainandcompany.com
Until next time, I wish you successful marketing campaigns!
Helene